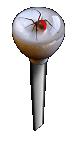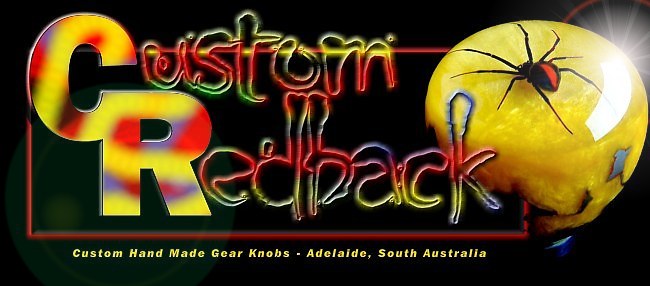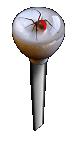 Welcome to Custom Redback's Knob Shop.
Download the latest Custom Redback Brochure here
Before ordering your custom knob have a read through the following information and take a look at some of the examples produced by Custom Redback.
We specialise in producing gear knobs with the infamous Aussie redback spider as the main embedded inclusion, however,
we also embed other types of spiders, scorpions, gun shells, centipedes, etc.
If you have something you want embedded into a knob contact us and we'll discuss it with you.
If you see a colour scheme you like in the examples, send us the knob number with your order.
Feel free to ask for particular colours: We like change and originality :-D
Once you know what style of knob you are after, drop us an email stating your order and including your full name and postal details.
Knobs can take between 2-4 weeks to arrive after payment. Indicate your preferred method of payment.
Best Regards - Mark Newton - Custom Redback, Adelaide, South Australia
Email Order to: info@customredback.com
---
Payment methods accepted:
Direct Deposit:

Bank: Commonwealth
Name: Mark Newton
BSB: 066-500
Accnt: 10164740


Cheque:

Post to:
Custom Redback
PO Box 6
Highbury
SA 5089


Money Order:

Post to:
Custom Redback
PO Box 6
Highbury
SA 5089


PayPal:
Pricing:
---
Heavy Duty Knob: $120.00 including Freight (Australia and International)
Standard knob with polished galvanised steel tube insert for strength and looks
---
Below is a shaped knob for looks and its unique qualities.
Glow in the dark!
*****Search Ebay for 'custom redback' to see what finished products I have for sale*****
Choosing Colours for your custom knob.

Custom knobs can be either all one colour, or a base colour (see pic, colour 1), with a top thin layer (see pic, colour 2). The thin colour layer allows you to choose a main base colour you prefer for your cars interior, while setting the spider against a background you prefer to either make it stand out or hide it. Spiders generally have brown to black abdomens, with black legs and thorax. If you want the spider to stand out it pays to go for brighter colours, such as yellow, white, red etc. Dark colours such as black, blue, purple etc tend to camouflage the spider.

Choosing the correct thread for your custom knob. The safest way to find the correct thread is to either buy some nuts from your local hardware to find which one fits onto your gear stick or take your existing knob into a hardware and find a bolt that will easily screw into it. Generally speaking most modern cars will be metric, either 10Mx1.25, or 12Mx1.25. Older Australian cars and American cars might be AF, not metric, so look for sizes around 1/2" or so. You need to find the correct size thread so your custom knob will thread on easily. An ill fitting thread could potentially damage the knob if excessive force is used to screw it on.